In the heart of Kennesaw, Georgia, where Southern charm meets modern living, homeowners are constantly seeking ways to enhance their spaces. One trend that has gained immense popularity is the incorporation of skylights. Beyond their practical function of bringing natural light into interiors, skylights have become a focal point in contemporary home design. In this extensive guide, we will explore the latest trends in skylight design and installation, offering inspiration for Kennesaw residents looking to elevate their living spaces.
The Resurgence of Skylights in Home Design
Skylights have undergone a remarkable transformation in recent years, evolving from functional necessities to design statements. Homeowners in Kennesaw are embracing skylights not only for their ability to brighten up rooms but also for their aesthetic impact. The latest trends reflect a desire to seamlessly integrate skylights into the overall design scheme, creating visually stunning and well-lit spaces.
1. Modern Skylight Shapes and Sizes:
a. Statement Geometrics:
Skylights are no longer confined to traditional shapes. Homeowners are opting for geometric designs, such as triangular, hexagonal, or even asymmetrical skylights, adding an avant-garde touch to interiors.
b. Oversized Skylights:
Embrace the grandeur of expansive skylights that span the entire length or width of a room, flooding the space with natural light. Oversized skylights create a sense of openness and connection to the outdoors.
2. Smart Skylight Technology:
a. Automated Ventilation:
Incorporate smart technology into skylights with automated ventilation systems. These systems can be programmed to open and close based on temperature, humidity, or time, providing optimal comfort and energy efficiency.
b. Remote Control and Sensors:
Skylights equipped with remote controls and sensors simplify operation. Users can adjust the amount of light entering a room or close skylights during inclement weather with just a touch of a button.
3. Energy-Efficient Skylights:
a. Double-Pane Glazing:
Opt for skylights with double-pane glazing to enhance energy efficiency. This design minimizes heat transfer, keeping interiors cool in the summer and warm in the winter.
b. Solar-Powered Skylights:
Embrace sustainable living with solar-powered skylights. These skylights harness the power of the sun to operate, reducing reliance on traditional power sources and lowering energy costs.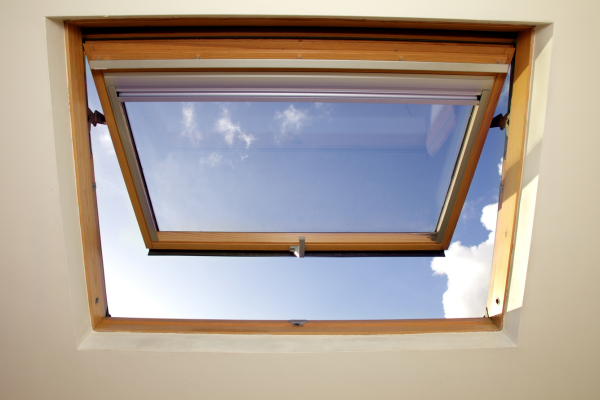 4. Dynamic Lighting Solutions:
a. Skylight Blinds and Shades:
Enhance control over natural light with skylight blinds and shades. Motorized options make adjustments easy, allowing homeowners to diffuse light or block it out entirely based on their preferences.
b. Light Tunnels and Tubes:
For spaces where traditional skylights may not be feasible, consider light tunnels or tubes. These innovative solutions channel sunlight from the roof to interiors, brightening up even the darkest corners.
5. Customized Skylight Frames and Finishes:
a. Minimalist Frames:
Embrace the beauty of simplicity with minimalist skylight frames. Thin profiles and clean lines create a contemporary look, allowing the focus to remain on the natural light pouring into the space.
b. Statement Frames:
Make a bold design statement with skylight frames in contrasting colors or unique finishes. Gold, black, or copper frames can become captivating focal points that complement the overall aesthetic.
6. Multi-Functional Skylight Spaces:
a. Skylight Atriums:
Transform living spaces into serene retreats with skylight atriums. These installations not only bring in abundant natural light but also create a connection to the outdoors, blurring the boundaries between interior and exterior spaces.
b. Skylight Ceilings:
Integrate skylights directly into the ceiling design for a seamless and cohesive look. This trend is particularly effective in areas where a traditional window may not be practical.
7. Nature-Inspired Skylight Designs:
a. Skylights with Greenery:
Combine the beauty of nature with skylights by incorporating greenery. Skylights with built-in planters or surrounding green walls create a harmonious and refreshing atmosphere.
b. Skylights with Water Features:
Elevate your interior oasis with skylights featuring integrated water elements. The sound of trickling water combined with natural light adds a calming and spa-like ambiance.
8. Skylights in Unconventional Spaces:
a. Kitchen Skylights:
Bring culinary spaces to life with strategically placed skylights. Over kitchen islands or above cooking areas, skylights illuminate the heart of the home with warm, natural light.
b. Bathroom Skylights:
Transform bathrooms into luxurious sanctuaries with skylights. Install skylights directly above the bathtub or shower for an indulgent bathing experience.
Real-World Inspirations:
a. The Harper Residence:
A geometric skylight installation in the Harper residence's living room adds an artistic touch to the contemporary space, creating a stunning interplay of light and shadow throughout the day.
b. The Mitchell Kitchen:
Skylights strategically placed above the kitchen island in the Mitchell residence not only illuminate the cooking area but also showcase the homeowners' love for culinary aesthetics.
c. The Anderson Atrium:
The Anderson residence features a spectacular skylight atrium, transforming the living room into an inviting oasis. The installation provides an uninterrupted view of the sky while flooding the space with natural light.
Conclusion: Transforming Kennesaw Homes with Skylight Innovation
As Kennesaw residents seek to enhance their homes with both style and functionality, skylights emerge as indispensable elements in modern design. From geometric shapes to smart technology integration, the latest trends in skylight design offer endless possibilities for elevating living spaces.
For those looking to embark on a skylight journey, consider consulting with Infinity Roofing Contractors. Their expertise in skylight installation and commitment to staying abreast of design trends ensures that your Kennesaw home will be bathed in natural light, creating an atmosphere of timeless beauty and innovation. Embrace the skylight revolution and transform your living spaces into showcases of contemporary design and luminous sophistication.