Your home's exterior plays a significant role in its overall aesthetics, protection, and energy efficiency. Whether you're looking to boost curb appeal or enhance insulation, choosing the right siding material is crucial. Infinity Roofing Contractors offers a variety of siding options that cater to the specific needs of Georgia homeowners, from Acworth to Woodstock. In this comprehensive guide, we will explore the various siding choices, highlighting the benefits of each material, including enhanced insulation, low maintenance, and improved curb appeal.
Understanding the Importance of Siding
Siding is more than just a decorative element; it acts as a protective barrier, shielding your home from weather elements, pests, and other external threats.
The Role of Siding:
Weather Resistance: Quality siding materials resist wind, rain, and extreme temperatures common in Georgia's varying climates.

Insulation and Energy Efficiency: Some siding options offer improved insulation, reducing energy consumption and lowering utility bills.

Aesthetic Appeal: Siding enhances your home's curb appeal, contributing to its overall beauty and value.
Vinyl Siding: A Durable and Low-Maintenance Option
Vinyl siding is a popular choice among Georgia homeowners due to its durability, versatility, and low maintenance requirements.
Benefits of Vinyl Siding:
Durability: Vinyl siding resists fading, cracking, and warping, ensuring long-lasting performance.

Low Maintenance: Vinyl requires minimal upkeep, saving you time and effort on maintenance tasks.

Variety of Styles: Choose from a wide range of colors and textures to complement your home's architecture.

Cost-Effective: Vinyl is an affordable option compared to other siding materials.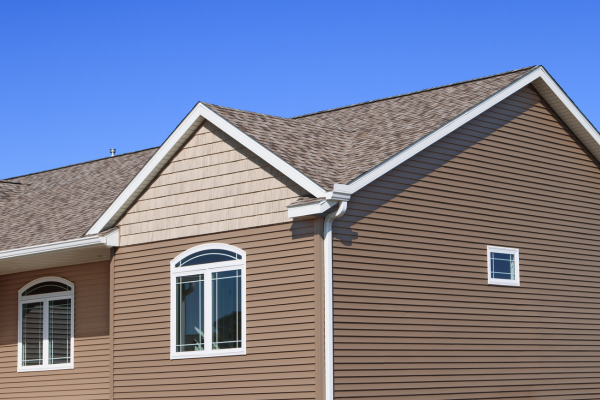 Fiber Cement Siding: The Perfect Balance of Beauty and Durability
Fiber cement siding offers a perfect blend of aesthetic appeal and robust durability, making it a top choice for many Georgia homeowners.
Advantages of Fiber Cement Siding:
Authentic Wood Look: Fiber cement mimics the appearance of real wood without the drawbacks of rot and pests.

Fire and Weather Resistance: This siding option is highly resistant to fire, moisture, and extreme weather conditions.

Longevity: Fiber cement siding boasts a long lifespan, making it a durable investment for your home.

Low Maintenance: Enjoy the beauty of wood without the need for frequent upkeep.
James Hardie® Fiber Cement Siding: Unmatched Quality and Performance
As a James Hardie® Elite Preferred Contractor, Infinity Roofing Contractors offers premium James Hardie® fiber cement siding, known for its unparalleled quality and performance.
Benefits of James Hardie® Fiber Cement Siding:
Superior Durability: James Hardie® siding withstands harsh weather conditions, including wind, rain, and hail.

Rot and Pest Resistance: This siding material is impervious to rot, pests, and termites.

Engineered for Georgia Climates: James Hardie® siding is designed to perform exceptionally well in varying Georgia climates.

ColorPlus® Technology: Enjoy lasting beauty with ColorPlus® pre-finished siding that resists fading and chipping.
Cedar Shake Siding: Timeless Beauty and Warmth
For homeowners seeking a classic and natural look, cedar shake siding provides timeless beauty and unmatched warmth.
Advantages of Cedar Shake Siding:
Rustic Appeal: Cedar shakes add a touch of rustic charm to your home's exterior.

Natural Insulation: Cedar's natural properties provide enhanced insulation, improving energy efficiency.

Weather Resistance: Cedar shakes are naturally resistant to rot and decay, making them durable in Georgia's climates.

Unique Aesthetic: Each shake is distinct, providing a unique and authentic appearance to your home.
Expert Siding Installation by Infinity Roofing Contractors
Regardless of your chosen siding material, proper installation is crucial to achieving the desired performance and appearance.
Our Siding Installation Services:
Professional Installation: Our skilled team ensures precise and secure siding installation for long-lasting results.

Comprehensive Services: We offer a wide range of siding options to cater to your specific needs and preferences.

Customization: Choose from various siding styles, colors, and finishes to create the perfect look for your home.
Conclusion
Revamping your home's exterior with the right siding material can transform its appearance, enhance insulation, and provide long-lasting protection against Georgia's diverse climates. At Infinity Roofing Contractors, we take pride in offering a wide selection of siding options to meet the unique needs of Georgia homeowners.
Contact Infinity Roofing Contractors today to explore our siding choices and take the first step towards transforming your home's exterior with beautiful and durable siding.